Yu Chen
Video Specialist
Sydney
Master of Interactive and Digital Media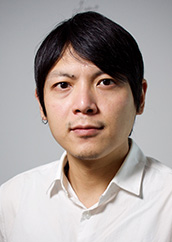 knowing you don't know is the most essential step of knowing
Yu Chen
knowing you don't know is the most essential step of knowing
Yu Chen
Yu Chen
Video Specialist Sydney
Master of Interactive and Digital Media
---
Skills:
HTML5 |
Adobe After Effects |
Adobe Illustrator |
Adobe Premiere Pro |
Photoshop
---
As a member of the SSW TV team, Yu Hsien, Taiwan born and US educated designer, specializes in motion graphics and post-production. A particular passion for him is visual art and technology, this is an area where he excel at, because of his specialized expertise and a keen eye for both design and aesthetics.
Key Skills:
· Motion Graphics
· Animation
· Visual Effects
· Post Production
· Photography
· Project Managing
---
Interested in what Yu can do for you?
Contact Yu's Account Manager to discuss your project
or call on +61 2 9953 3000